Training
LinkedIn Learning

LinkedIn Learning is an online video platform led by industry experts from around the world. It is easy to use and accessible any time from any device. You can log in using your University of Tennessee NetID and password.
LINKEDIN LEARNING IS HERE!
Features
With over 13,000 technology, creative, and business courses, you'll build the skills you need to succeed. LinkedIn Learning includes all the content from Lynda.com and much more.
New Look, Same Content – LinkedIn Learning offers the same high-quality library of on-demand, expert-led instructional videos as Lynda.com.
Automatic Carryover – Your Lynda.com learning history, account info, and certifications will be waiting for you in LinkedIn Learning.
Flexible Learning – Watch instructional videos on any device, on and offline at your convenience.
Personalized Learning – Curate your experience with trending skills in your field based on your likes and what your colleagues are watching.
User-Friendly Interface – Find and view content more quickly and easily with an improved interface.
Ability to Stay Ahead – Insights from 575 million users help predict learning trends that will empower you to learn more.
Connection to LinkedIn Profile – LinkedIn Learning offers the option to automatically update your LinkedIn profile with the courses you take.
Still have questions? Learn the basics of LinkedIn Learning here.
---
Lynda.com is now LinkedIn Learning
Lynda.com is transitioned to LinkedIn Learning on August 12, 2019. Don't worry, all of your learning history, certificates, and playlists automatically transferred from Lynda.com to LinkedIn Learning. To learn more, watch the video below.
---
Connect to LinkedIn Profile
This optional step will allow users to connect their LinkedIn Learning accounts with their LinkedIn profiles. This will allow for further customization, including course recommendations based on job title, skills and industry. Linking profiles will also help you discover relevant learning content via your LinkedIn feed.
Requirements
You must be an active University of Tennessee student, faculty, or staff member to use LinkedIn Learning.
Access LinkedIn Learning through linkedinlearning.utk.edu
Sign in with your NetID and NetID password.
Complete a short enrollment process the first time you access the new platform.

If you have an existing LinkedIn account, you may choose to connect it with your new LinkedIn Learning account, to highlight your training and certifications on your LinkedIn profile.
You DO NOT have to link your accounts and can choose to skip this step.

Once you finish this short activation process, you'll have full access to all that LinkedIn Learning has to offer.
---
Frequently asked questions about LinkedIn Learning
See additional FAQs about the LiL transition.
---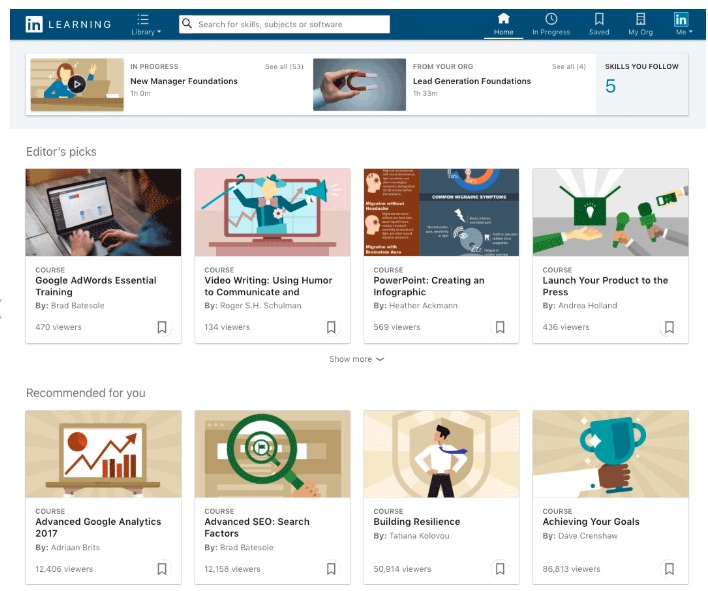 Get Acquainted with LinkedIn Learning
---
Related Services
Face-to-Face training with a professional trainer from the Office of Information Technology. Click Here to learn more.
Requested Training Classes: The office of Information Technology provided faculty and staff with the option of having a trainer come to their classes/offices and present training on requested topics.
Private Consultations: If you need help on a technology topic you can schedule a consult with a training professional.