Research Computing Support
ESRI ArcGIS Apps and Add-On Software

By joining the UTK ArcGIS organization, members have access to other ESRI apps and plug ins.  Some are cloud based apps while others can be downloaded to your computer.
To access these apps and additional plug ins:
Log into https://myutk.maps.arcgis.com.
Click "groups" on top ribbon        
Click  "Find the organization's groups" on the right hand side.
Click on ArcGIS Available Apps
  Survey123 for ArcGIS
Using a form-based survey interface in a lightweight, intuitive app, users can collect, manage and analyze survey results.  An off-line app is available as well. Users can add media and upload documents to survey or request media from survey takers. You can download Survey123 to your desktop to create and administer surveys or you can use it in the cloud.  More information can be found at https://doc.arcgis.com/en/survey123/download/. Start using Survey123 with your net id and password by logging into https://survey123.arcgis.com/
  ArcGIS Maps for Office
Microsoft Excel and PowerPoint users can use the power of maps to ask location related questions Esri   More information can be found at https://doc.arcgis.com/en/maps-for-office/.
  Collector for ArcGIS
Collector is an efficient, accurate data collection on smartphones or tablets replaces paper forms. Respond, record, work on- or offline, and sync automatically.  You can access more information about Collector at http://doc.arcgis.com/en/collector/.  You can download the app from the Google Playstore or the Apple store.
   Operations Dashboard for ArcGIS
Get a real-time view and common operating picture. Add data feeds to events or daily operations. Integrate maps, charts, gauges, and histograms. Download and access Operations Dashboard at ttp://doc.arcgis.com/en/operations-dashboard/
 Explorer for ArcGIS
Access asset data, search for places and features, or sketch on the map to highlight important aspects. Use Explorer to share useful maps with the public. More information can be found at Explorer for ArcGIS at https://doc.arcgis.com/en/explorer/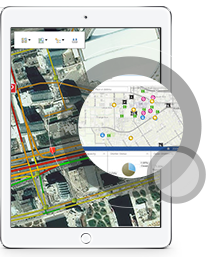 Workforce for ArcGIS
Teams and groups of students can work together using Workforce. Workforce syncs with other apps to get assignments, navigate to them, and collect data in one workflow, on one mobile device.  More information can be found at http://www.esri.com/products/workforce
   ArcGIS Maps for Power BI
Microsoft Power BI users can tap into the power of geospatial analytics, and access new map themes, demographic data, and map place marks to easily understand spatial information.  More information can be found at http://www.esri.com/software/arcgis/arcgis-maps-for-power-bi.
 Business Analyst
Get location-based insight for market planning, site selection, and customer segmentation plus with 15,000+ variables of market data for maps, analytics, and reports.  This can be accessed using your ArcGIS Online account name and password.  Information and login can be found at:https://bao.arcgis.com/esriBAO/login/
 Esri Community Analyst
Use ESRI's community analyst to see the impact of policy decisions to prioritize community projects or place new facilities. Use global data to create what-if scenarios and comparison reports. Users can log into the Community analyst cloud site at: https://communityanalyst.arcgis.com/esriCA/login/
GeoPlanner for ArcGIS
Create, analyze, and report on alternative planning scenarios in support of better, more informed decision making. More information can be found at: http://doc.arcgis.com/en/geoplanner/.
  Esri Maps for SharePoint
Turn lists or data into color-coded, point, clustered point, or heat maps. Enrich key business measures with demographic and lifestyle data from Esri.  More information can be found at: http://doc.arcgis.com/en/maps-for-sharepoint/.
AppStudio for ArcGIS
Convert maps into mobile apps for Android, iOS, Windows, OS X, and Linux. Publish apps using your own brand, or share internally. No developer skills required. Use it in the cloud or download it to your computer.  More information can be found at: https://appstudio.arcgis.com/
 Web AppBuilder for ArcGIS
Create HTML/JavaScript apps with ready-to-use widgets that run on any device. Customize the look with configurable themes.  More information can be found at: http://doc.arcgis.com/en/web-appbuilder/