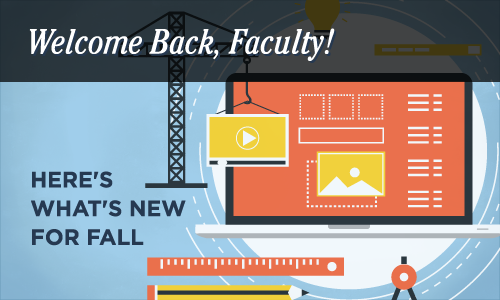 Here's What's New for Fall
We saw a lot of changes to campus over the summer. Several classrooms have been renovated, and in addition to the new coats of paint and furniture, technology in the classrooms and on-campus has leaped forward.
WolfVision Cynaps have been added to classrooms in Nielsen Physics, Engineering & Sciences Annex, Strong Hall, and more. You can connect up to four devices to the projector with the Cynaps, allowing you to provide live annotations and interactive presentations. Learn more about Cynaps at one of our workshops!
Canvas has taken over! With Blackboard officially retiring on May 31, all classes have migrated to Canvas. If you still need help with Canvas, please take one of the workshopsto get ready for this fall! Or, request a one-on-one consultation.
Do you need to reserve a computer lab for your class? OIT's new website has all you need to know for reserving an OIT lab in Humanities 201, Humanities 202, and John D. Tickle Engineering 403. Check the availability online before reserving your lab.
Microsoft is always introducing new apps for Office 365. New this summer are Stream and Teams. Released just a couple of weeks ago, Stream helps you create, discover, and share videos across your organization. While Teams' chat-based workspace may be just what you need for collaborating with the different groups you work with, from research peers to students. Share your files, store your conversations, and access your tools all in one simple location.
Remember, OIT is here to help you with your classes. We will be introducing Universal Design for Learning (UDL) workshops later this fall in addition to our workshops on making your classrooms more accessible. We currently have a self-paced Implementing UDL on Canvas course online and are available for consultations. Along with UDL, we offer a number of technology workshops for you and your students, on previously scheduled times or during your class. We're here to help you with all of your instructional and technology needs. Just contact the OIT HelpDesk online or by phone at 865-974-9900 to get in touch with us.