Request Webcasting with a New, Convenient Form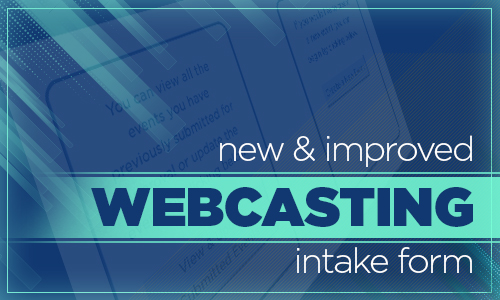 We are excited to introduce this new and improved webcasting intake form, which was the result of feedback from our customers to make the process more streamlined and easier for you.
OIT Webcasting Services, which can record or stream your class or special event, has a new Webcasting Request Form! The new request link provides two new functions:
Request Multiple Events. There is no need to create multiple tickets for repetitive events. After entering your first event, the form now gives you an option to submit another event. Your contact and departmental information is saved and auto-populated while the event detail area of the form remains clear for new information to be added.
View & Update Submitted Requests. Track and view all of your upcoming requested webcasts in a single location, by logging in to FootPrints. Edit and amend an event as details change in the same location.
 If you need assistance with the recording or streaming of a class, a special speaker, a club event, or more, submit a request today! If you have questions, contact the OIT HelpDesk at 865-974-9900.