New Look for UT G-Suite and Office 365 Web Login
On May 15, you will see a new look when you sign into UT's Google G-Suite and Microsoft Office 365 through the web. To prepare for two-factor authentication, OIT is moving to a Microsoft-based login for these services. When you arrive at the new login page, you will see a new UT-branded page; log in with your UT email address (NetID@utk.edu or NetID@vols.utk.edu) and password to access these services.
Today's sign-in page has a generic background image with the Microsoft logo.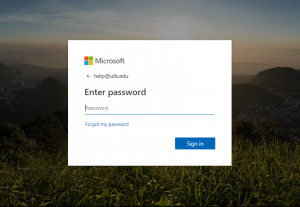 On May 15, the sign-in page will use a campus image and the UT logo. When logging in to UT's Google G-Suite services and Microsoft Office 365 services, this is the image you will see: