How to Login to LinkedIn Learning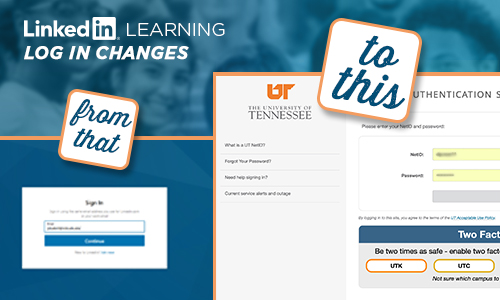 To simplify the login process, LinkedIn Learning is changing how you log in from the LinkedIn Learning website. LinkedIn Learning will push this change to your account between now and the end of the calendar year. Once your account has been updated, enter your UT email address, and then, you'll be directed to the UT login page where you will enter your NetID and password.
Don't forget; you can bypass the extra step by logging in from
OIT's website
.
More about LinkedIn Learning
LinkedIn Learning is an online video platform led by industry experts from around the world. You can use LinkedIn Learning to view more than 15,000 videos; it is easy to use and accessible at any time from any device.
Learn more about LinkedIn Learning and sign up today