Extended support for Online Course Delivery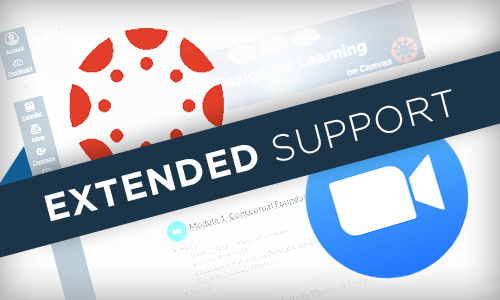 In an effort to best support our faculty, OIT is offering extended virtual support hours via Zoom for Canvas, Zoom, Lockdown Browser, Respondus Monitor, and instructional/course design. To assist with this transition, we have assigned instructors Zoom Pro accounts, and the Respondus Monitor contract has been expanded to allow unlimited usage. For more information about Respondus LockDown Browser and Monitor, go to the Teaching Tools section.
We enabled a new tool in Canvas that integrates with Zoom, allowing instructors to schedule online class sessions and office hours from within Canvas. It is available in all Canvas sites. Visit our Canvas help page to get started using Zoom within Canvas.
---
ONLINE SUPPORT
Drop-In Support for Zoom and Canvas
OIT is offering daily (including weekends) support for Canvas and Zoom. Simply drop by one of our designated Zoom rooms, and our experts will be available to help you from 8:00 a.m. to 8:00 p.m. through March 31, 2020
Online@UT (Canvas) Support
LiveOnline@UT (Zoom) Support
---
Scheduled Workshops
Teaching and Learning Innovation is offering daily workshops on Steps for Transitioning to Online Course Delivery online in Zoom.
Register Today
---
One-on-One Consultations (via Zoom)
We are also available for one-on-one consultations via Zoom. Appointments are required and may be requested by contacting the OIT HelpDesk:
Provide some time slots you have available and you will receive a verification email with the Zoom link.
Write the HelpDesk