Instructional Design & Support
Online Teaching Tools
Teaching Tools section provides information about specific software used to meet your instructional goals and objectives grouped by the following categories: Course Content, Learner Engagement, and Assessment.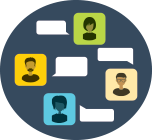 Learner Engagement
Learner Engagement tools encourage student active and collaborative learning through online communication, collaboration, and social networking.
Assessment
Assessment tools provide a means of determining the success of student learning and effectiveness of the instruction.